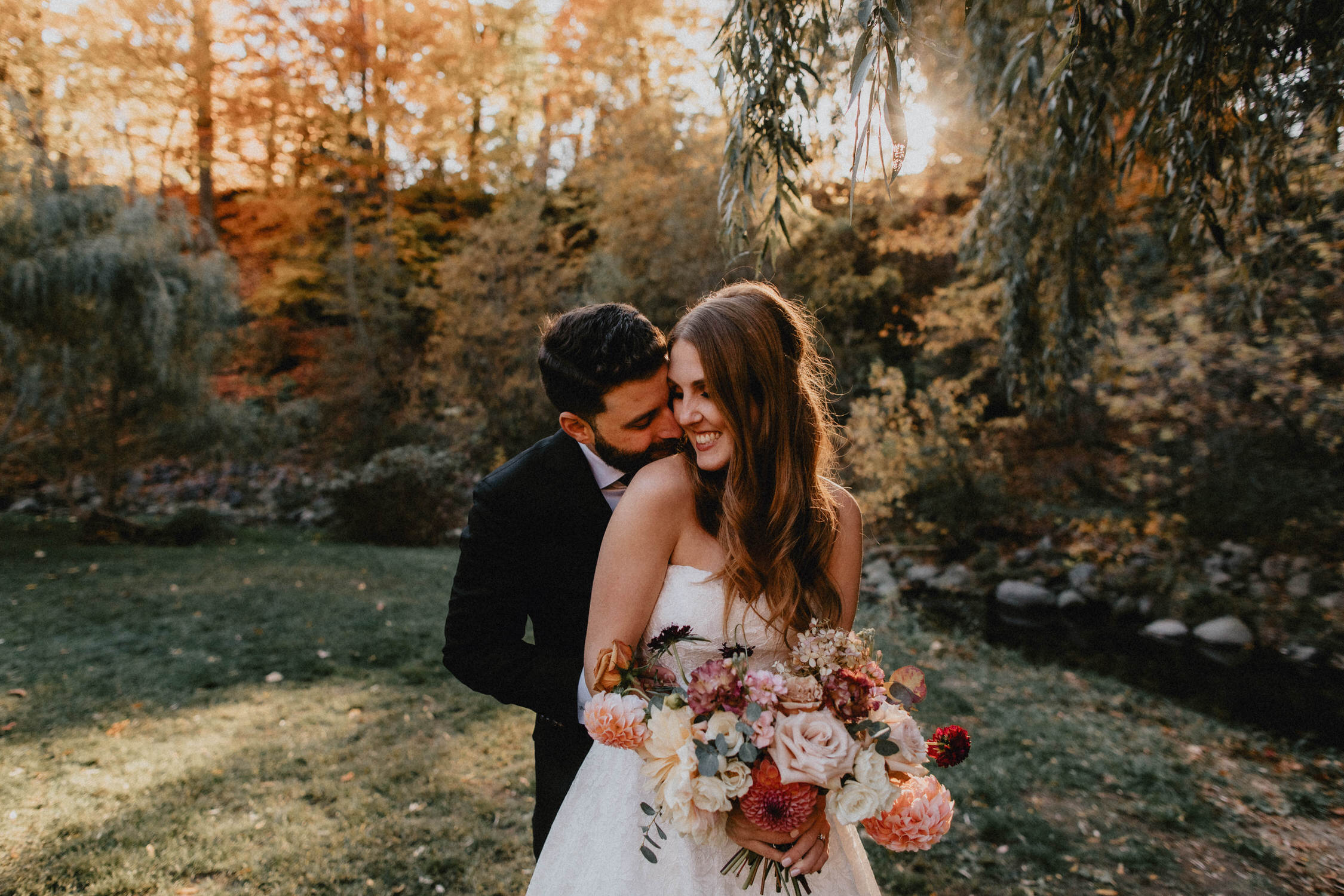 Mackenzie and Jordon picked the perfect day for their autumn micro wedding at Berkeley Fieldhouse, but like most of 2020, this wasn't their original plan. It was only 8 days before their wedding that they found out their guest list had to be cut, their reception couldn't go on and they would need to find a change of venue, due to the size of their original wedding plans and all the safety restrictions in place. They had already gone through two other postponements, and just a few days before their original date they decided that the big ceremony and reception wasn't as important to them as being able to celebrate their love with the people they loved most. Determined to make things work they stuck with their original wedding date but pivoted their wedding venue to Berkeley Fieldhouse and said 'we're going forward with 25 people, we'll just get married, we'll do some portraits, and go back to our house to have a 10 person dinner'. Honestly, despite all the challenges before them, Mackenzie and Jordon's wedding day was still joyful, emotional, hilarious, resilient, and just as beautiful.
It was a sunny mid-October day and a balmy 18 degrees out, perfect for a fall wedding. Mackenzie got ready at home with her parents and bridal party, while I captured the beautiful details of their morning. She had a really sweet first look with her bridesmaids, and some time to rest and really take everything in before we headed to the ceremony. When we arrived at Berkeley Fieldhouse the venue was beautifully decorated and still just as charming for their micro wedding as any other wedding I've documented there. Jordon had a really cute reaction as Mackenzie walked down the aisle and I love the way they greeted each other - they're pretty adorable. One of my favourite parts of the day was just after the ceremony while everyone was hanging out and having champagne. Their guests were immediate family, and wedding party members plus their partners, so really a close group of people who loved them. Mackenzie and Jordon had a few different moments where they found each other in the group and took some one-on-one time to soak it all in. They also had a live stream to connect remotely with friends and family who couldn't join them in person. If you've seen my blogs before you'll know I don't usually share family portraits, but I really want to celebrate opportunities where families were able to be together during covid. Something that's been quite emotional and special for people is just the ability to stand with their families. After the ceremony we headed to Edward's Gardens where they had a lot of fun with the bridal party shots in the valley, and the evening sun made for some stunning portraits of the two of them in the forest, where we ventured down near the water, and they danced in the fall leaves. One of the most emotional photos for Mackenzie was actually the very last image of the highway. This was their first moment of the day for them to really be alone together. It was also particularly special to them to have that moment to take in how beautiful the day was and being able to reflect on what a huge challenge it was to even make their wedding happen.
Sometimes life doesn't go according to our (carefully thought out) plans, and we have to pivot to make things work, but I have to tell you - witnessing these stripped-down weddings in 2020 continually reveals to me how many distractions we let get in our way. It's so easy to get caught up in the pretty and the lifelong expectations of ourselves and others that we go on to totally miss the point of the whole celebration in the first place. This wedding will always be a reminder of that truth to me - that in 8 days, Mackenzie and Jordan pulled off a day with so much emotion, joy, beauty, and meaning. And yes, the flowers and dresses and venue were beautiful - that is true too. We can have both! But the way it felt to be there - to be celebrating the start of a marriage that 8 days previous we thought may not be able to be celebrated - was the part that I'll remember about this beautiful October day.