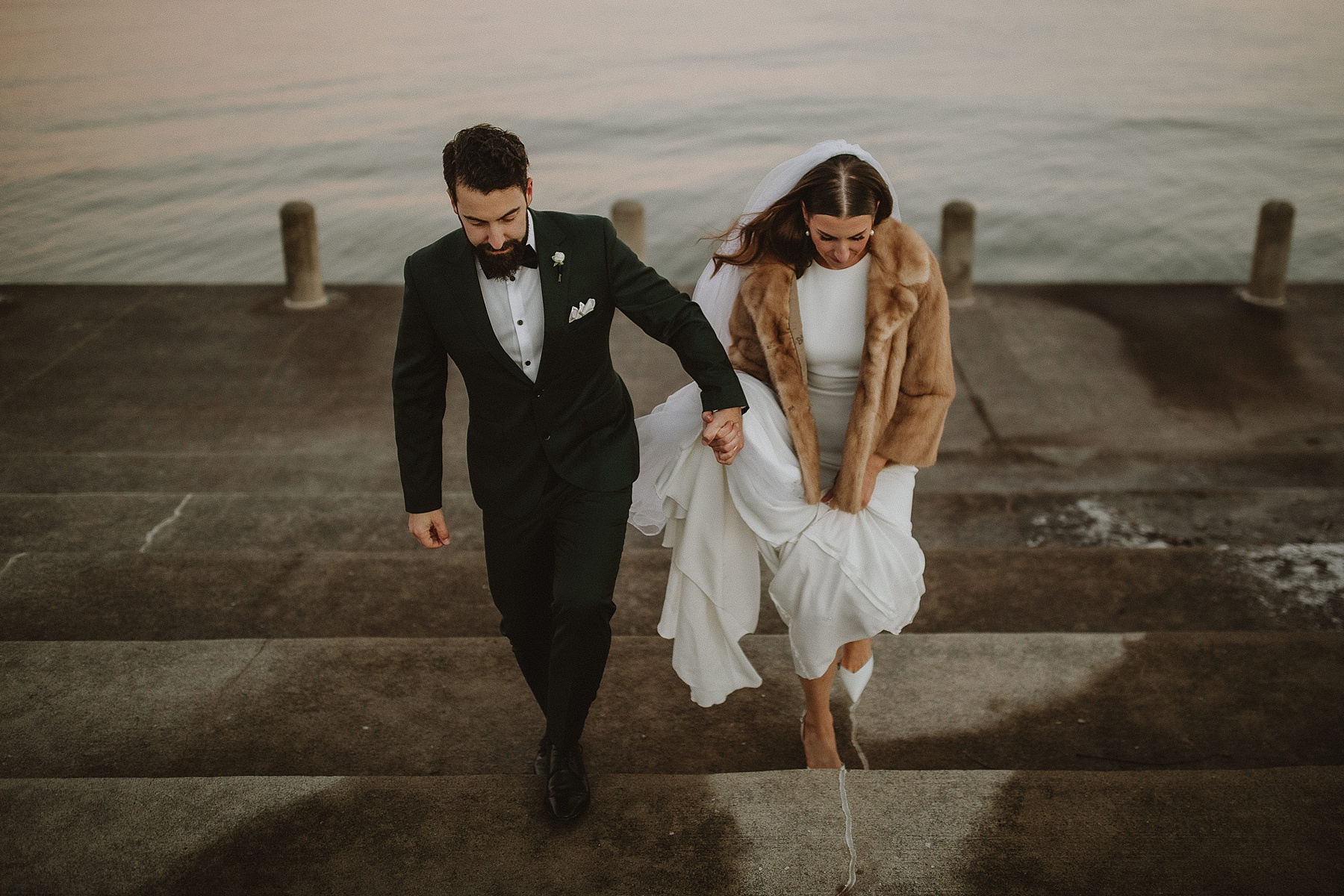 shot by Jacquie - congratulations Laura + Brandon!
Imagine planning an intimate wedding at home in only 36 hours. It sounds crazy, right?! But Laura and Brandon (with the help of their stellar team) didn't just pull it off, they created something magical; a beautiful intimate mico wedding that was just as special as their original plans (if not more), despite the challenges leading up to it. Laura and Brandon's original wedding date was set for NYE 2020, as they wanted to throw a big party with friends and family and celebrate the heck out of midnight. Of course, wouldn't you know it, they had to reschedule to NYE 2021 because of covid. On December 17th, 2021, the government announced new restrictions that would mean they couldn't have a big party, and there would be no dancing – you get the idea. For Laura and Brandon, there was no point in even doing a NYE wedding if it couldn't be a big party. So, they pivoted.
I got their email at 7 pm on December 17th that said they were thinking of getting married at home with their immediate families instead… in just 2 days. Thankfully their officiant, hair and make-up stylist, florist, and photographer were all free – so we went for it! Within 40 hours after receiving that email I was with them shooting one of the best weddings ever.
Now, I don't want to pretend that doing a 180 for this wedding in such a short amount of time was a walk in the park. A quick turnaround meant the florist had to find flowers in a crunch; Laura and Brandon had to figure out what to feed everyone. We had to create a whole new schedule, to choose new photo locations; and they also had to clean up their home so it would fit immediate family for a celebration in their living room. But somehow it all came together between Friday at 7 pm and Sunday at noon, and the day was perfect. Just unbelievably perfect. It was honestly hard to imagine that this wasn't the plan all along – I mean, even mother nature gave us a bit of snow and a pink sunset to work with.
Something I really loved about their day was that they didn't treat it at allll as "less". It wasn't worse because it was last minute and smaller than they imagined. When they woke up that morning, they played one of Brandon's favourite songs to start the day – "Lovers in a Dangerous Time" by the Barenaked Ladies. Thoughtfully, they asked us to contact their officiant as a point person if we needed anything that day – they wanted to make sure their full attention could be on their emotions and taking in every moment of the day uninterrupted. Laura got ready at her parents' house, and Brandon got ready at their best friend's place. Niece and nephew, Abby and Carter, were a prominent part of the day and were very thrilled to be there and were excellent hype people all day. The group was super intimate, and everyone brought their best to the day. It was so emotional, so joyful, and so personal for them – completely focused on the power of the promises they were making, but also stunningly beautiful.
Their cozy ceremony was filled with laughter and tears, and after the ceremony we snuck down to the Burlington waterfront for a few portraits by the lake, and the sky gave us the prettiest colours. Back at the house, Persian take-out was ordered and eaten, and then it was speech time. Such special, hilarious heart-filled speeches from family on both sides, and from Laura and Brandon themselves. Lots of visiting and drinking later, we ended the evening with a sparkler shot on their back deck.
These two have been so so special to work with, from start to finish. And, this wasn't the last time I got to see them - you can find their wedding part 2, and even their first set of photos with their sweet boy Charlie on the blog too.