a shared blog post by O+O Co. and Hannah Love Yoon Photography
I have been a full time photographer for two years. I grew a hobby into a full time business, and before I knew it my creative side passion was the way I was putting food on my table. It has been challenging and thrilling to figure out the pieces of running a successful business. It has been eye opening and fulfilling to work in a creative space, creating art and building relationship with countless couples and families. I am still jazzed about what I do, and am so thankful I made the move to full time at the start of 2016.
As an extrovert, becoming self employed (aka lonely employed) was a challenging one. I had connections to photographers in bigger social groups, but was missing out on day to day interactions and fellowship with others. After going through my first full time year and feeling pretty drained, I knew something had to change. So, at the beginning of 2017, I started to become more intentional about connecting to other local photographers. First, it was grabbing a coffee here and there with someone (which is how I met Hannah the first time). By February, Hannah, I and a few others had started a small Facebook community of female photographers. This grew from 5 the first day, to 21 over the course of the year.
The reality of working in an industry where your peers are also your competition can be isolating and takes the fun out of having a business. So instead, we chose to focus on being a genuine community of peers. Not just to talk shop, share referrals and take pretty pictures together, but to actually be a intentional space of support and fun. In the last year we turned strangers and "competitors" into friends and collectively helped our businesses grow in amazing ways.
We started going on "field trips" to explore shoot locations in our community. We've had evening socials, brainstorms about business, tax-time talks, and even a Christmas party. For different reasons, our little community has helped us to become better business women; it has nourished us (because there are always snacks.. We love snacks) through conversation and adventure. It continues to be a place where we can ask the dumb questions every business owner needs to ask sometimes.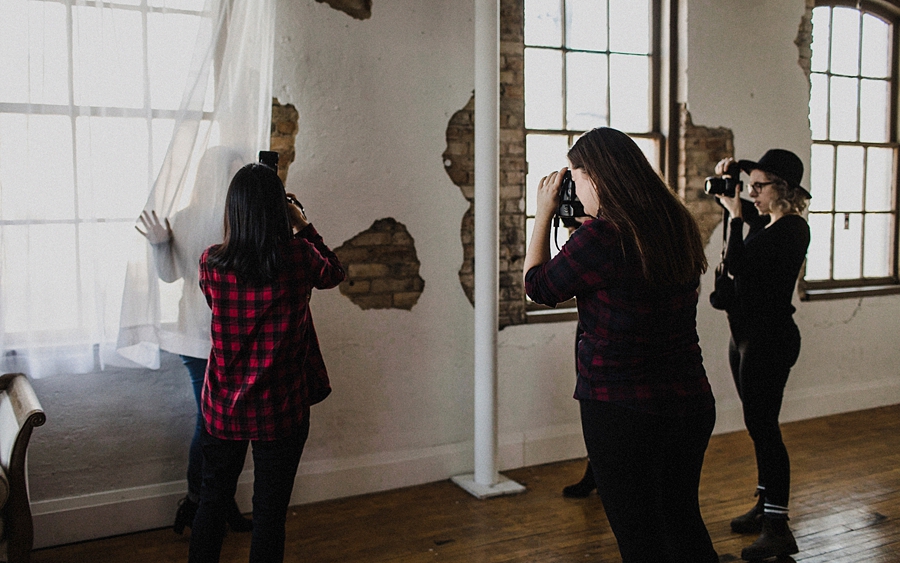 Some of the values that exist in my personal life weren't always front of mind when creating my business. But it just took 12 months of being a full time photographer to realize that there was so much more than "the hustle". Instagram followers + Facebook views don't really matter when connections are not being made to real humans. I love my clients a lot, but it was obvious that what I needed to be successful in business was not simply being busy and making money. Once I started to reach out and see who was out there, it was immediately clear that others too were craving genuine connection with work peers.
Our advice to other photographers + female entrepreneurs: seek community. Create bonds with like-minded business owners, with intention to grow your relationship outside your obvious commonalities. We are so much better together, and there is room for everyone at the "top". (Or the middle, or the bottom.) Be authentic in a way that reaches past your instagram feed. If the community you wish for doesn't exist, create it. Success in business doesn't have to be about money, or the hustle, or the followers. It doesn't need to be measured in number of weddings booked, or conferences spoken at, or cool ways to make coffee. We've discovered that what propels us forward and sustains our businesses are the people that we get to support and be supported by along the way. Community matters.
To end this introduction blog, we wanted to share a few of our favourite KW photo spots, in case you're searching for a lesser known spot for some family photos, or just to snap a few insta selfies!